Research Article

Open Access
Infectious disease emergence and global change: thinking systemically in a shrinking world
Infectious Diseases of Poverty
2012
1:5
Received: 16 September 2012
Accepted: 23 September 2012
Published: 25 October 2012
Abstract
Background
Concern intensifying that emerging infectious diseases and global environmental changes that could generate major future human pandemics.
Method
A focused literature review was undertaken, partly informed by a forthcoming report on environment, agriculture and infectious diseases of poverty, facilitated by the Special Programme for Tropical Diseases.
Results
More than ten categories of infectious disease emergence exist, but none formally analyse past, current or future burden of disease. Other evidence suggests that the dominant public health concern focuses on two informal groupings. Most important is the perceived threat of newly recognised infections, especially viruses that arise or are newly discovered in developing countries that originate in species exotic to developed countries, such as non-human primates, bats and rodents. These pathogens may be transmitted by insects or bats, or via direct human contact with bushmeat. The second group is new strains of influenza arising from intensively farmed chickens or pigs, or emerging from Asian "wet markets" where several bird species have close contact. Both forms appear justified because of two great pandemics: HIV/AIDS (which appears to have originated from bushmeat hunting in Africa before emerging globally) and Spanish influenza, which killed up to 2.5% of the human population around the end of World War I. Insufficiently appreciated is the contribution of the milieu which appeared to facilitate the high disease burden in these pandemics. Additionally, excess anxiety over emerging infectious diseases diverts attention from issues of greater public health importance, especially: (i) existing (including neglected) infectious diseases and (ii) the changing milieu that is eroding the determinants of immunity and public health, caused by adverse global environmental changes, including climate change and other components of stressed life and civilisation-supporting systems.
Conclusions
The focus on novel pathogens and minor forms of anti-microbial resistance in emerging disease literature is unjustified by their burden of disease, actual and potential, and diverts attention from far more important health problems and determinants. There is insufficient understanding of systemic factors that promote pandemics. Adverse global change could generate circumstances conducive to future pandemics with a high burden of disease, arising via anti-microbial and insecticidal resistance, under-nutrition, conflict, and public health breakdown.
Keywords
Influenza
Avian Influenza
Food Price
Global Environmental Change
Serial Passage
Multilingual abstracts
Please see Additional file1 for translations of the abstract into the six official working languages of the United Nations.
Background
There is widespread and legitimate concern about global environmental change (GEC), "limits to growth" and global and regional social health determinants such as worsening inequality. Allied with this growing attention to GEC is rising anxiety about emerging infectious diseases. Several aspects of GEC, including international travel, climate change, and the trade in livestock and plants have been explicitly linked to emerging infectious diseases (EIDs) in humans and other species[1-3]. This article provides a focussed summary of these two literatures and a critical assessment of their interactions.
These identified connections between two dimensions of a greater problem; GEC and EIDs matter, but the relevance of most identified factors to future infectious diseases may be dwarfed by factors whose importance is at present far less well appreciated. Indeed, it is possible that circumstances more familiar to earlier human generations could evolve, creating a fertile terrain which could enable the resurgence of currently dormant infectious diseases, of great consequence to our forebears. This context could evolve through the conjunction of worsening under-nutrition, and, in some parts of the world, impaired governance. Both factors threaten to erode the foundations of public health, an important determinant of emerging infectious diseases, recognised by pioneers in this literature[4].
The structure of this paper is conventionally arranged as background, methods, results and conclusion, however this is to an extent artificial, as no experiment was actually performed. Rather the majority of this paper presents a series of conceptual frameworks, concerning GEC and EIDs, threshold effects for physical, social and eco-social events and then potential burden of disease of EIDs.
Method
A focussed literature review was conducted, building on substantial research conducted by the author for a forthcoming report about environment, agriculture and infectious diseases of poverty[5]. The author acted as a consultant (2008-present) for the "think tank" (called "Thematic Reference Group IV") that undertook this report, under the stewardship of the Special Programme for Tropical Diseases Research. He also served as editor for this Report. The author's long familiarity with the interactions between global environmental change and health[6] made the task possible.
This article extends part of the material in this report. This is based on an overview of relevant literature obtained by soliciting expert opinion, starting first with the Thematic Reference Group members. This was supplemented by a literature search using numerous relevant keywords, embracing both general and specific topics related to these topics. The main search engine used was Google Scholar because of its capacity to search diverse literatures. The search was restricted here to published journal articles and books, though for the Technical Report the literature searched included many reports. Literature in the area of global environmental change is too large to permit a systematic review, and extends far beyond that normally considered as biomedical or health-related. The author also has considerable familiarity with the EID literature. While, there was not sufficient time to conduct an exhaustive literature review into interactions between global environmental change and EIDs, it is unlikely that major relevant publications have been overlooked.
Results
An outline of the results section is shown in Figure
1
. This section first summarises relevant aspects of global environmental change. It then discusses physical, social and "eco-social" thresholds and effects, including the relationship between current energy prices and the global recession. It then discusses global change, including how climate change has increased food prices (see Figure
2
). Rising food prices impair nutrition, harm immunity and thus increase vulnerability to infectious diseases and some chronic diseases. The paper then analyses, critically, one of the most important recent analyses of EIDs, that by Jones et al.[
7
], focussing especially its causal classification (Figure
3
).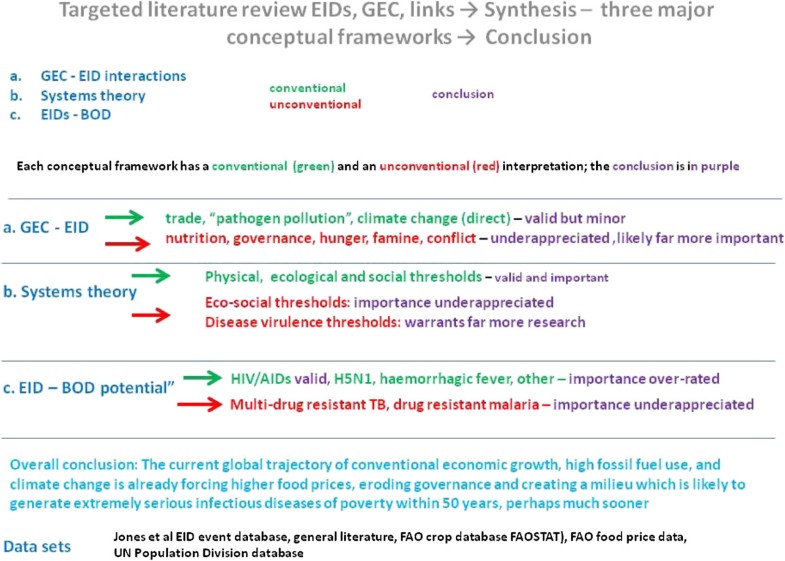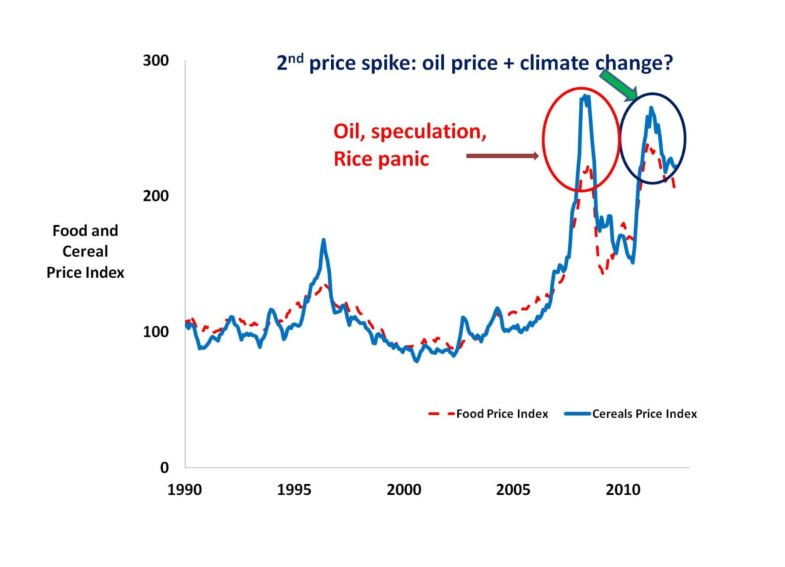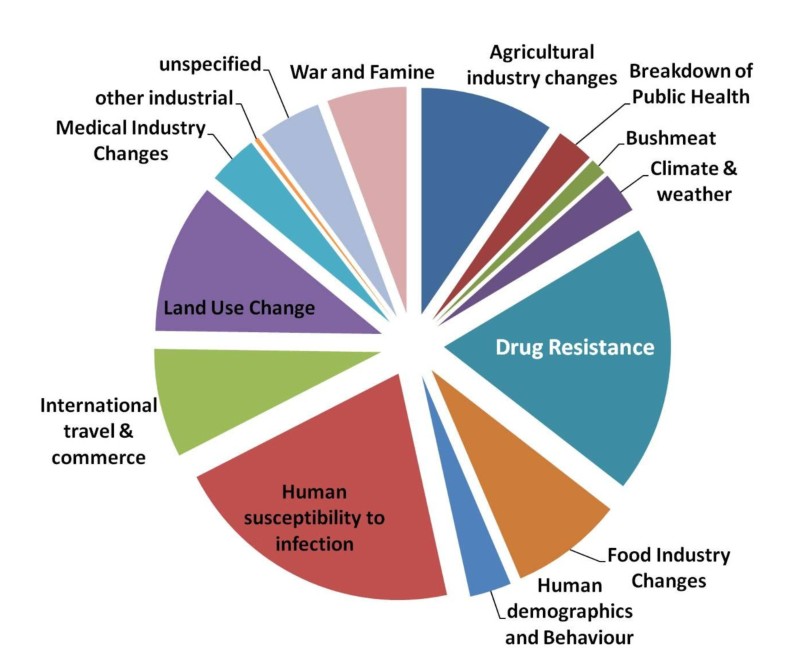 The paper then becomes more speculative, discussing the characteristics of infectious diseases that have the potential to have a high burden of disease, including a discussion of influenza, Nipah virus and HIV. It challenges the conventional focus on exotic fevers as the major risk of EIDs (Figure
4
), and also discusses the ecological characteristics which may influence the evolution of highly pathogenic avian and human influenza (Figure
5
). The paper then challenges more conventional wisdom – the current state of global per capita food supply (Figures
6
,
7
). The paper then concludes with an appeal for greater systemic thinking to reduce the potential of GEC to create a milieu for EIDs with a high burden of disease, using two scenarios, one pessimistic (Figure
8
) and one optimistic (Figure
9
).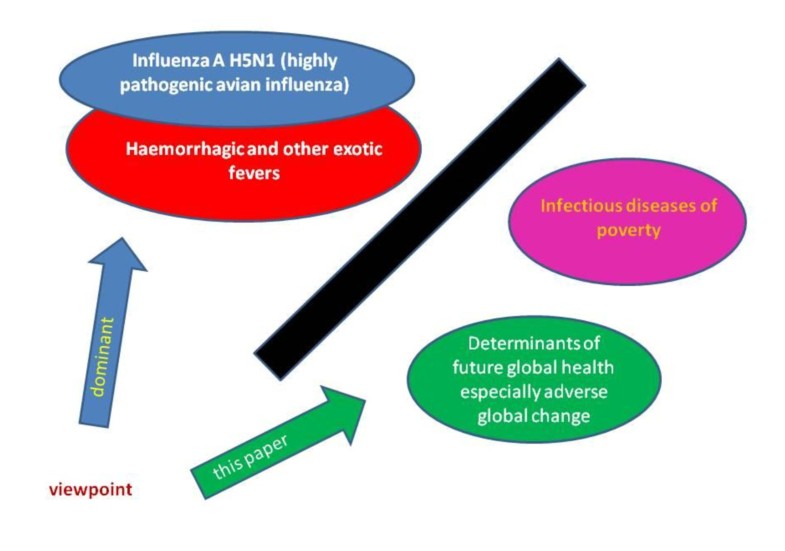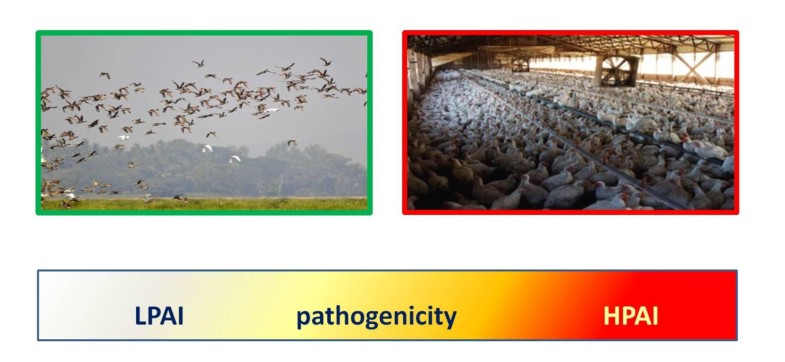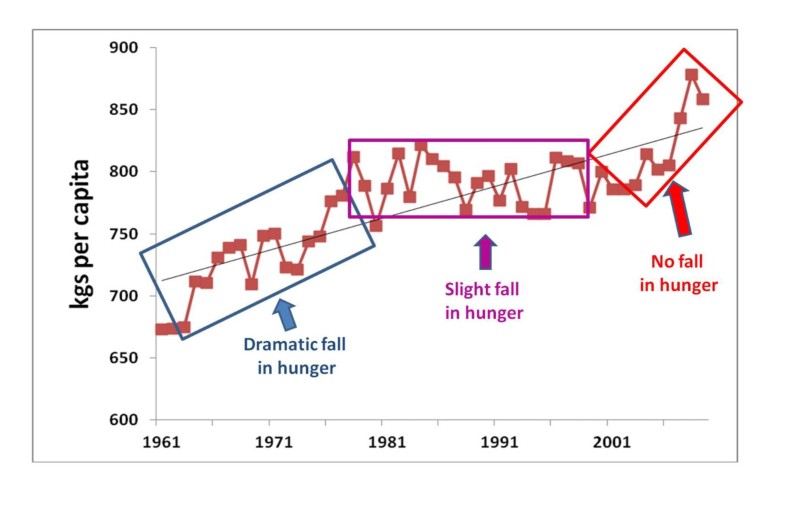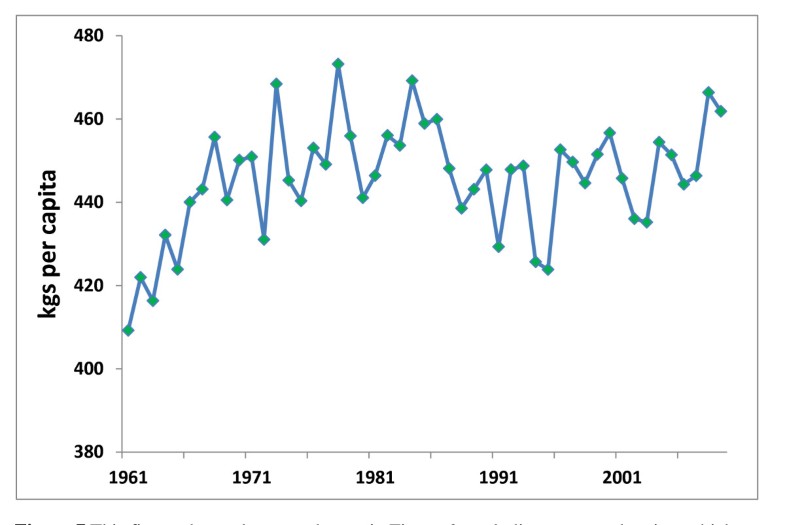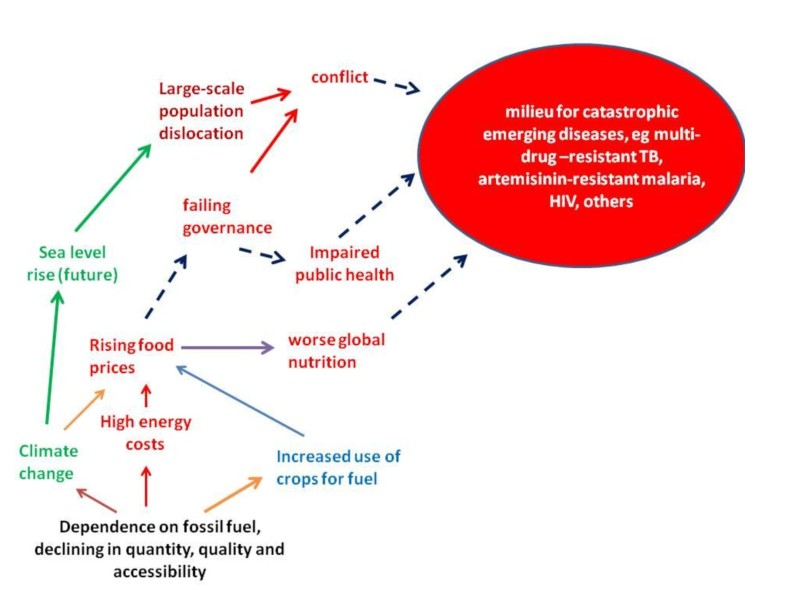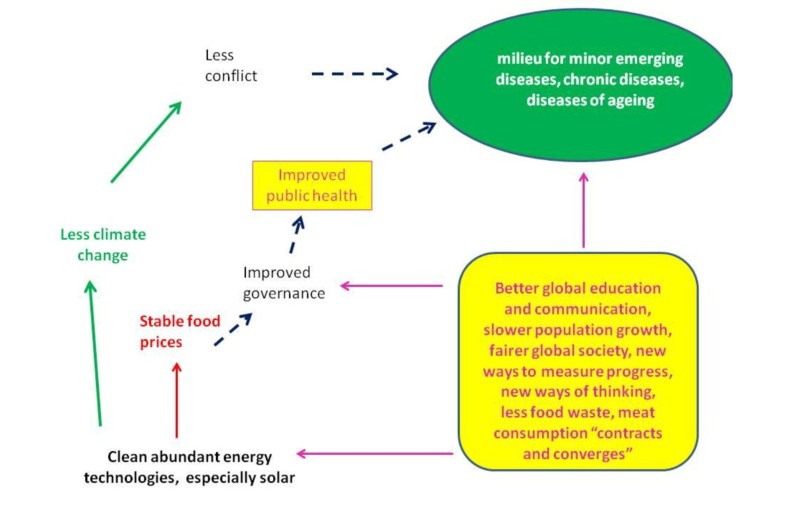 In the course of this analysis, the paper uses several datasets: FAO food price data (Figure2) the Jones et al. EID event database (Figure3) and FAO crop database (FAOSTAT) and UN Population Division data (Figures6,7).
Endnotes
1This concept refers to an interdisciplinary, cross-sectoral approach to addressing human and animal health, underpinned by environmental stewardship. It is a trademark of the Wildlife Conservation Society.
Declarations
Acknowledgements
The author gratefully acknowledges assistance with conceptualisation of many of these ideas with the members and advisers to the Thematic Reference Group IV, also Professor Adrian Sleigh and Drs Ro McFarlane and Jonathan Rushton. Thanks also for help with editing by Professor Colin Soskolne and Susan Butler.
Authors' Affiliations
(1)
National Centre for Epidemiology and Population Health College of Medicine Biology and Environment, Australian National University, Canberra, Australia
Copyright
© 2012 Butler; licensee BioMed Central Ltd. 2012
This article is published under license to BioMed Central Ltd. This is an Open Access article distributed under the terms of the Creative Commons Attribution License (http://creativecommons.org/licenses/by/2.0), which permits unrestricted use, distribution, and reproduction in any medium, provided the original work is properly cited.